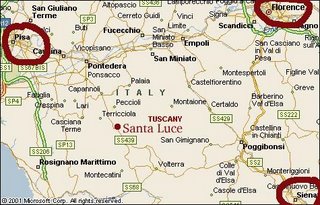 Den lille byen Santa Luce ligger på SS439; så vidt jeg vet går SS439 fra Follonica sør i Toscana, nordover inne i landet, forbi Volterra, øst for Pisa, følger romerveien fra Bientina til Lucca, og derfra til Pietrasanta nord-vest for Lucca. Vi kan vel si at Santa Luce ligger i det Toscanske Triangel utspent av de glitrende storbyene Pisa, Firenze, og Siena.
Rådhuset På nesten alle måter er en helt ubetydelig landsby i Toscana. Men bare nesten; rådhuset er nemlig ikke opplyst om natten. Generellt kan vi si at på overflaten så er det to ting som virkelig kjennertegner Italia: Trafikkmaskiner på steroider, og flombelysning av monumenter av alle slag. Dette bidrar til å fremheve hva rådhuset i Santa Luce er et symbol for. Rådhuset er ikke hva vi vil kalle et prangende bygg, til og med skult av et digert tre (heller ikke vanlig i Italia).
Det var trolig kombinasjonen av treet som delvis skjulte huset og det strålende været som gjorde at jeg første gangen steg av sykkelen for å ta en titt.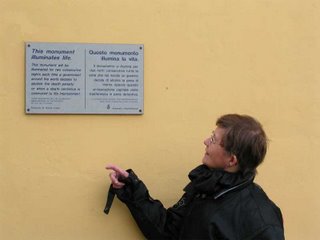 På veggen er det en liten, diskret plakett. Det er ikke mulig å legge merke til den når man kjører forbi, og med mindre man tilfeldigvis stopper går man glipp av det helt uvanlige lille plaketten på veggen. Jeg er klar over at bildet domineres av Hustruen, men slik er nå engang livet mitt. Her er derfor selve teksten: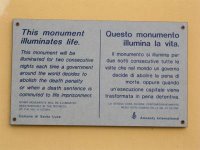 This monument will be illuminated for two consecutive nights each time a goverment around the world decides to abolish the death penalty or when a death sentence is commuted to life imprisonment.Hvis ikke dette er bemerkelsesverdig så vet ikke jeg!