Efter en uke hvor jeg ikke bare arbeidet mye, men også ble trukket inn i svært følelsladede diskusjoner, en venn ble syk, og i det hele tatt, efter en slik uke er ingenting som en heldagstur med Hustruen på motorsykkel. Vi brukte hele dagen i fjellene nord for Montecatini Terme. Vi spiste lunch på Pizzeria Amalfi i den lille byen Piastre. Det er et herlig lite sted, akkurat slik som vi liker det her i familien. Da Hustruen spurte om kjøttet i carbonaraen var røkt kom kokken ut med et stykke peppret pancetta som han lot oss smake på. Utenfor er det er fontene laget av Campari. Den inngikk i en større kampanje på 30-tallet hvor slke ble satt opp en rekke steder i Toscana; dette er en av de få som fremdeles er intakt.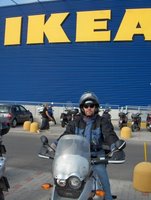 Når man er på motorsykkel er det mulig med Safe Sex. Derfor dro vi innom IKEA i Firenze på tilbaketuren. Selv Hustruen forstår at det ikke er mulig å handle noe når bilen står trygt parkert hjemme. Det eneste vi kunne ta med oss var en katalog; er jo et godt alternativ (synes noen). Ellers kan det vel sier helt klart at søndag efter lunch er feil tidspunkt å besøke IKEA (medmindre det å klenge seg sammen med titusenvis av italienere er drømmen).
Er det ikke godt at voksne hjelper ungdommen med informasjon om Livet, Døden og De Evige Tingene:
Don't forget flashbacks, those mental images of previous sexual encounters that have a nasty way of creeping back into your mind during arousal. Who wants to be thinking of previous sex partners while making love with their spouse? Worse, who wants their spouse to be thinking of previous sex partners?
og
To summarize, the only truly safe sex is the lovemaking that occurs in a faithful monogamous relationship where both partners are HIV negative. Condoms may reduce the risk of HIV transmission somewhat, but they can't guarantee prevention. Please, don't entrust your life to something as risky as a condom.
Fra informasjonen om Safe Sex?.