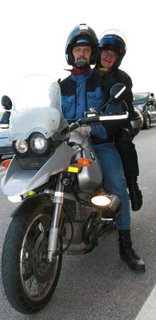 Her er hva en mann som er mindre enn meg mener om å kjøre BMW R150GS:
Unless you have very, very long legs you'll be unable to put more than the tips of your toes on the ground; balancing this quarter-ton monster at a standstill requires concentration.

I'm 1.78m tall and weigh 106kg and this bike is too big for me; whenever I had to paddle it around in a parking lot I put down the side stand, slid off like a child dismounting from a pony, and pushed it round ? very, very carefully. BMW has an alternative saddle that is 40mm lower; a sensible choice unless you are an NBA candidate.
For meg er den rett og slett perfekt; legg merke til at føttene er solid plantet i asfalten! Uansett, jeg har vært plaget med at noe har vært "løst" i styret. Fikk byttet styrelager to ganger (begge gangene på garantien) i fjor uten at det hjelp. På 70.000 service nå i dag ble årsaken identifisert: En pakning var utett og ene støtdemperen fremme var full av vann og hele innmaten var rustet i stykker. Med bare én demper blir det vridninger overalt. Derfor er begge dekke slitt sjeve; heldigvis er de ikke nye men modne for utskiftning likevel. Nær 500 euro koster det med service pluss feilsøking og skifting av en demper.
Bildet er tatt av Svein Are i Vinci og viser noe av lysutstyret. Og så ser vi Hustruen, naturligvis. Den eneste copilot i verden med instruksjonsrett og vetorett. Verdens beste passasjer!